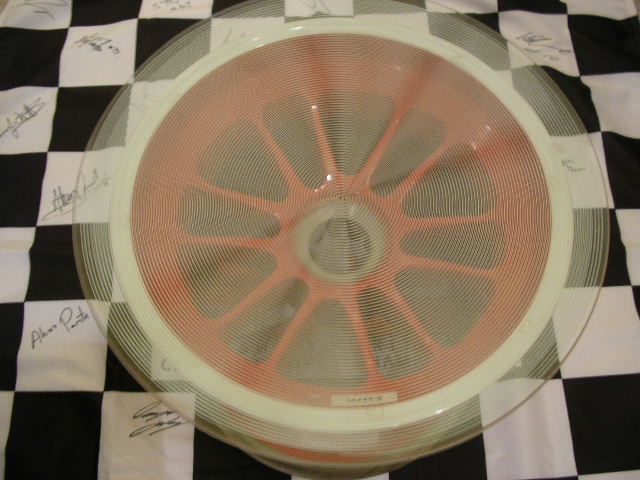 FOR SALE: GENUINE 1999 BAR OZ FORMULA ONE WHEEL COFFEE TABLE
Here is your chance to own an extremely rare piece of motorsport history. Purchased at the November Paul Stoddard Minardi F1 auction in Ledbury, the wheel came from the first ever B.A.R F1 car of 1999. I am selling this one, as I have another one anyway!
The wheel is absolutely stunning, you couldn't find a better used example. It was manufactured by world leading wheel company O.Z, and is made from lightweight forged magnesium alloy.
It has been used on the car during racing or testing, but has literally a couple of very minor stone chips (roughly 1mm in diameter). The unusal Red colour was used to enhance the unique and famed 'dual livery' car design (known as the 'Zipper') adopted by B.A.R in '99 to overcome an FIA regulation on livery style. I would imagine that there were maybe around 50 max ever produced in this colour. The two LHS wheels on the car were Red, the RHS were Blue. This adds to the rarity of the wheel – most F1 rims you find are either Silver or Black. The original lot number sticker is still stuck on the wheel (can easily be removed if required).
The wheel has been polished using Auto Glym professional polish, as used by B.A.R, to achieve maximum colour impact. Additionally it has Auto Glym extra gloss protection on top of that.
It is made into a coffee table by simply placing the toughened glass top (included) on the top of the rim. The glass has a gradual dip to its centre, meaning if anything is spilt, it doesn't drip off the edge of the glass. It rests on transparent pads, which not only prevents damage to the wheel but also grip the glass, preventing movement. The winning bidder can choose one of two glass tops designs, which will be included with the wheel. The designs are displayed in the first two photos below. One is smoked with a small white circle pattern spread across its diameter, the other is transparent but is designed in a way to ensure it 'shimers' when looked at. This is done by a series of rings that are slightly differently positioned to each other, on the top and bottom of the glass.
The wheel istelf is stamped with the number '393 98 10', which should make it traceable if required. In addition there are two stickers labelled 'WO3', which I assume was coding used by BAR.
A certficate of authenticity (COA) will be included, to prove where I bought the wheel.
I am also throwing in a rare official 1999 B.A.R press pack, featuring facts on the car and team in general, which also includes rare photos of drivers Jacques Villeneuve (now with Sauber) and Ricardo Zonta (2005 Toyota tester).
I am asking a fair price considering the rarity of the wheel and the inclusion of the glass top. A really great item for an extra special practical use.
Postage is a resonable £15, considering the weight. I WILL SHIP TO MAINLAND UK ADDRESSES ONLY. So if you are from the EU, USA, Ireland, Shetland Isles etc. sorry I can't accept your bids.
Approx. Dimensions:
Wheel – Diameter 360 mm/14.1 inches
Height 335 mm/12.8 inches
Glass Top – Diameter 410 mm/16.1 inches
Height (maximum) 20 mm/0.8 inches
I am asking £140 + £15 postage. If you are interested, please e-mail me (see address above left). More pictures are available. Unfortunatly I will only sell to the mainland UK.